"HELP! IT'S A BOSS!"


Maniacal Cube is currently a stub. Help improve the wiki by expanding this page and adding useful content!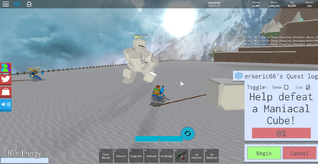 Maniacal Cubes are bosses built from selling a certain number of Lake Ice to Larry. You have to kill it by hitting it with ice cubes attached to your snowmobile. An ice cube attached to the player will not damage the boss
Attacks
It has 3 types of attacks:
Charge - It will start charging at a player.
Cube storm - It will turn into an undamagable ice cube and ice cubes will start raining (3 on each player).