"
Bigger, badder, stronger. The definition of a plow. Get 'er done.
"
Big Plow is a vehicle sold in the Plow Store for $85,000. It has a snow capacity of 10,000.
Performance
Edit
The Big Plow plows from 3 to 4 tiles of snow when driving in an erratic pattern and has a moderate plow strength, sometimes able to plow through a whole tile of snow. It can drive to a speed of 40, but its speed is usually 39 when driving forward. Its turn width is broad, requiring over two times the width of a road to turn, and has a slow turn speed. It is recommended to back up and then go forward while turning in order to turn efficiently.
Appearance
Edit
The Big Plow appears to be a large truck with a large bed in the back supported by four back wheels and a front section supported by four front wheels. It has a seat in the front with a steering wheel to the left and has a triangular-shaped plow in the front.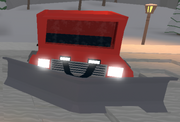 Snow Shoveling Simulator Content
Community content is available under
CC-BY-SA
unless otherwise noted.